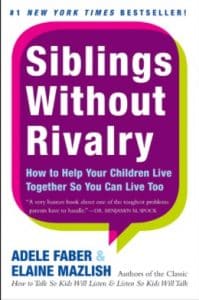 This is the third book from Adele Faber and Elaine Mazlish that I read, I am still enthusiastic!
In the introduction, they explain that this book was born from the fact that when they were writing How to talk so kids will listen and listen so kids will talk, their chapter about siblings just got out of hand, so much that it couldn't be a chapter… It became its own book.
I don't regret having read it!
Of course it goes around the same principles as How to talk so kids will listen…, but it is really focused on the relationships between brothers and sisters, on the way we can intervene in the dynamic, how to encourage positiveness.
At the beginning, I was a bit confused by the title.
Siblings without rivalry? But… fights between children are not always a matter of rivalry… There may be a difficult relationship without rivalry, isn't it ?
Well, reading it, I realized that rivalry is much more insidious than we can imagine it to be. That a lot of agressive behaviors between children can in deed come from a certain form of rivalry, and that working on it enables us to dream about a better world!
Contents:
Making peace with the past
(No post on the last chapter, just because it only sums up what has been said before)
https://les6doigtsdelamain.com/wp-content/uploads/2015/10/freres.jpg
621
400
Coralie
https://les6doigtsdelamain.com/wp-content/uploads/2016/08/cropped-cropped-logo-grand-300x233.jpg
Coralie
2015-10-22 14:56:00
2017-01-13 20:14:04
Siblings without rivalry