In the first chapter of How to talk so kids will… , Faber and Mazlish suggest creative expression.
So I tried with Leon (3 years) on a day of crisis.
I wish I had kept his drawing to illustrate this point.
He began by drawing a broken line, immediately calmed, and drew the face around. turned out the broken line was the mouth…
By the time he was done drawing, he wasn't angry anymore!
A few months later, I experienced again with Alice (8 years), who didn't want us parents to go out at night.
I told her to draw and write what she felt, and the next day, she showed me a page full of comments.
Here again, I unfortunately did not keep the drawing she handed me.
It looked a bit like this other version, that I found afterwards, probably her first draft.  But the one she showed me had many more comments from the girl, including "I wish they would have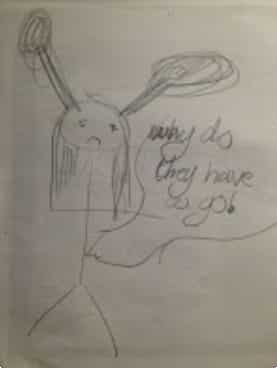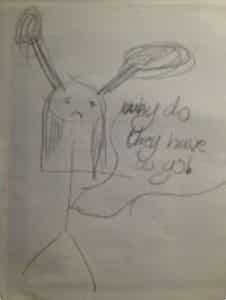 told me before!"
So, I don't know how much it helped her in the evening, since as you got it, I was out, but I know that even though she had first found the idea a bit ridiculous, she was happy to show it to me in the morning, and it allowed me to discover that part of her anger was due to the fact that she had missed the information earlier in the day and therefore felt there and been no warning…
Next time, I will make sure to advise her in advance!
https://les6doigtsdelamain.com/wp-content/uploads/2015/11/dessin-colere.jpg
368
277
Coralie
https://les6doigtsdelamain.com/wp-content/uploads/2020/07/logo-horizontal-small-300x218.png
Coralie
2015-11-17 20:17:00
2016-12-20 22:58:08
"Draw a picture of how angry you are"