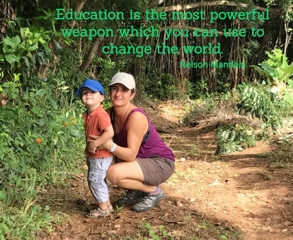 The other day, I was in the waiting room of the pediatrician, when a couple with 2 children arrives: a 2/3 year old girl and a few month old baby.
The girl wouldn't stop crying. I observe these parents trying to manage to the situation, and cannot help, with the lighting of my readings, judging everything clumsy…
« Look at your little brother, he doesn't cry! »
« If you don't stop crying, I don't put you back in the stroller! »
« Listen… If you behave, we will get an ice-cream afterwards… »
For my sake: « She recognizes the place, she knows we are at the pediatrician and she doesn't like it. »
Armed with my new skills, I know that everything is against what should to be done.
I want to intervene… Want to tell them not to compare their children (Which by the way is completely meaningless! He doesn't cry, of course, because he doesn't have any reason to cry! Is she crying every time that he wants to eat? I doubt it!), to not threaten, nor negotiate, but rather to listen to this little girl, to show her that she has been understood: « I have the impression you're a little scared to go to the pediatrician… You remember your injection from last time, do you? Yes, that hurt you… It's hard for you to come back here. I wish we could avoid it… »
Maybe it wouldn't work, but at least they wouldn't be creating a sense of jealousy towards her brother who happens to not be crying! (And not resenting her new brother who's stealing her parents' attention seems rather important…)
Of course, I don't say anything.
But it got me thinking…
After all, companies don't hire us if we're not trained to do the work they will ask us to, but what training do you receive before you take on the role of parents? so many of us don't do it right… What if everyone had received advice on how to encourage good relations between the siblings, rather than inadvertently encouraging rivalries, wouldn't society as a whole be nicer? Would we still need to talk about « school atmosphere » and « teaching respect at school »? What if tolerance and respect learned as children could avoid conflicts at the international level?
https://les6doigtsdelamain.com/wp-content/uploads/2015/08/IMG_2776.jpg
640
480
Coralie
https://les6doigtsdelamain.com/wp-content/uploads/2020/07/logo-horizontal-small-300x218.png
Coralie
2016-02-03 21:57:00
2017-01-08 16:49:51
What if…